Our Solihull Tai Chi Classes are now full
Our friendly and fun Solihull Tai Chi class will take place from 1.30pm until 3.00pm every Monday.
The Monday afternoon class is now full.
Lyndon Methodist Church,
Melton Avenue
Solihull
B92 7QX
Time,  1.15 pm – 2.45pm 
This class is also well situated for people living in the nearby areas of Elmdon, Shirley, Lode Heath, Tyburn, Catherine-de-Barnes, Hall Green, Tyseley, Sheldon, Bickenhill, Yardley, Yardley Wood, Marston Green, Hall Green, Acocks Green, Bordesley Green, Garretts Green, Wells Green and Kitts Green.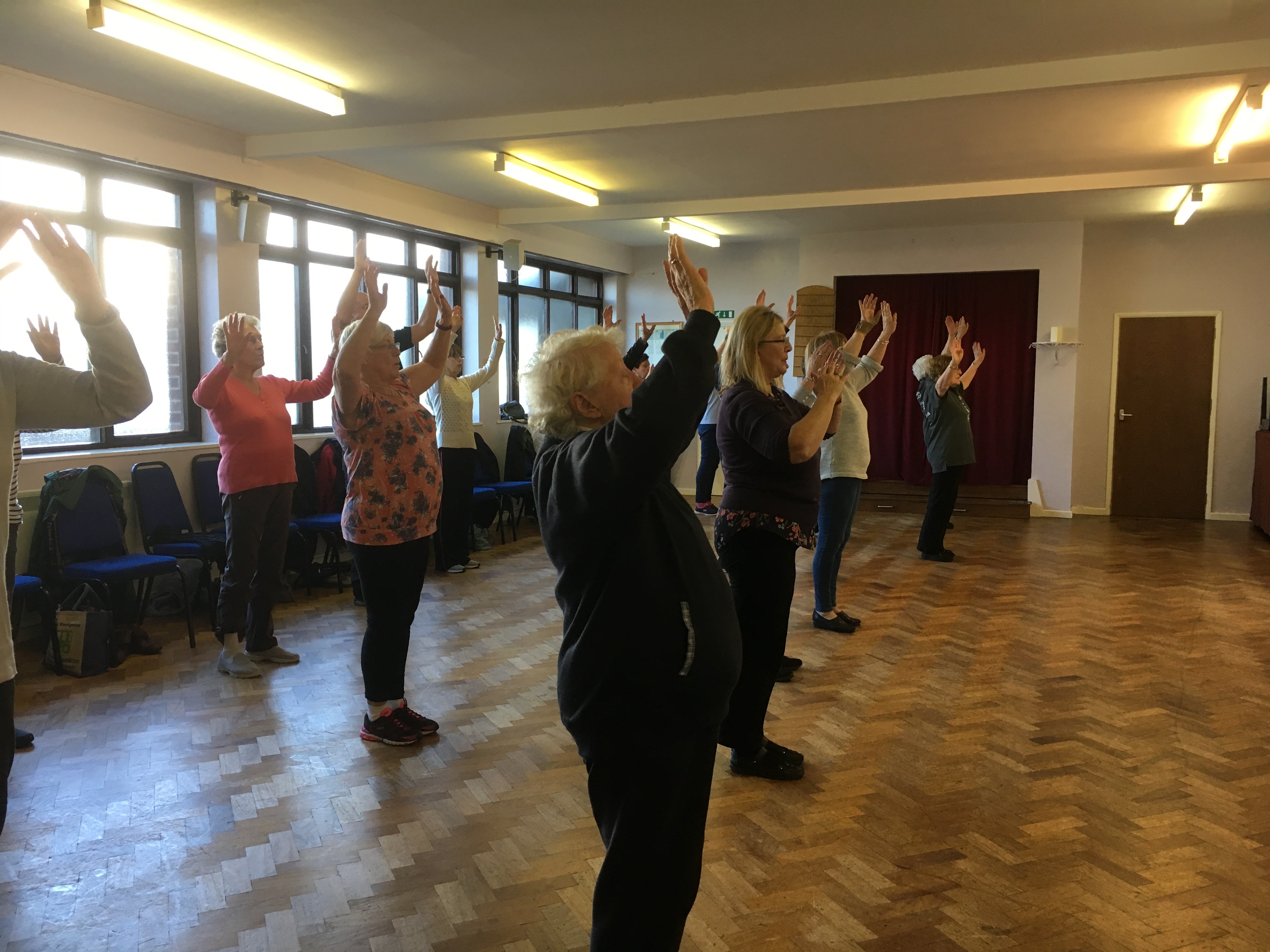 You can join this class at any time, as there is a mix of abilities from beginners through to more advanced, and we guide you through everything at each stage. You don't have to know anything about tai chi, you can just turn up and start with us. Just give us a call or an email here if you'd like any help or further information about anything.
Our Solihull Tai Chi class has a great atmosphere and we have a lot of fun. We would love for you to join us. Read on for some more information about this class.
There is a little more to Tai Chi than simply waving your arms around, and our class members also learn a lot during our classes. We teach Yang Style Tai Chi – the most popular style found in the West today. What you're probably thinking of when you think of Tai Chi is called "Form" – the graceful, flowing series of motions that many Chinese people begin each morning with, to set them up for the day ahead. We teach Yang Style Long Form, which takes around fifteen minutes to perform in full, and we take you through everything step by step so that it's straightforward to learn, as long as you have a little dedication!
Before moving on to Form, we'll warm up and then do some Chi Kung, which translates as "energy work". A Chi Kung is basically a repeated movement that works with a particular energy channel or channels within the body and makes the life energy ("Chi") flow in a particular way. There are many, many different Chi Kungs, and each does something slightly different to the body, and on a more subtle level, to the mind. Our class members have got a great deal from both Chi Kung and Form – but don't just take our word for it!
"What do I get out of going to Steve's Tai Chi class? The main thing is a sense of relaxation while participating in physical exercise. Closely followed by a huge sense of companionship and humour shared between the group's members!" Kareen.
"I needed an exercise regime, but was too old to play football, too poor to afford gym fees, and too lazy to go jogging!" James
"Attending classes have done be a great deal of good. There is a terrific sense of friendliness to the classes and I have made many friends. We have a great deal of fun! We also learn a great deal as well." Mike.
Would you like to speak to one of our advisers over the phone? Just submit your details and we'll be in touch shortly. You can also email us if you would prefer.
June 30th, 2021
Two days of Tai Chi combined with the Christmas party that we didn't get last De [...]
Read More
June 15th, 2021
Central Tai Chi will be providing some online taster sessions via Zoom every Tue [...]
Read More