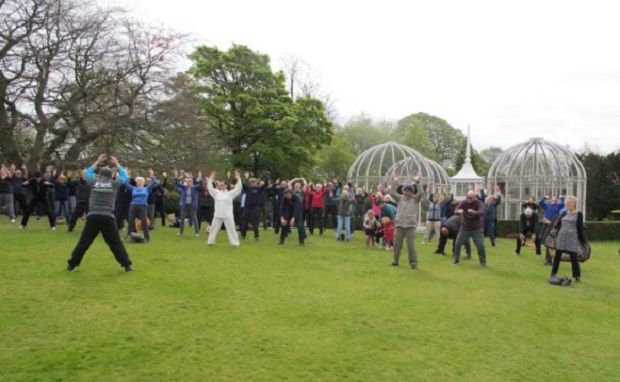 We had a brilliant day at the beautiful Birmingham Botanical Gardens on 29th April. Thank you so much to everyone who came along, and all our instructors and helpers who made the day so great. And now we have George's fab photos from the day, we thought it was about time we put up a blogpost about it!
Keith of course made sure we were all warmed up, and then we split off into 7 groups, covering a number of different aspects of our beautiful art. There was Michael and Mark's fabulous tai chi stick groups.
As well as Samantha Wong's very popular tai chi fan group.
Fleur and Lee's beginners' group had well over 50 people in it at one stage, and they all seemed to be having a lot of fun.
We have several Form groups, practising various sections of Yang's Long Form.
There was also Jenny's tai chi group…
…. Ken and Ian's group…..
…. Malcolm's group…
Keith also took a group comparing other arts to tai chi…
And we were honoured to be joined by Paul Read, The Teapot Monk, who took his own very very popular group.
We even managed to raise some money for the Botanical Gardens with our two studious young charity collectors, seen here checking whether they had time to do one more round with the charity bucket!
All in all, a wonderful day and a wonderful group of people. Thanks to everyone, especially our instructors and helpers, pictured here. Same time next year?