World Tai Chi Day is an annual event where groups of tai chi enthusiasts and beginners across the world do an hour of tai chi, making a wave across every time zone, giving a full 24 hours of tai chi. Tai Chi Stuff organise Birmingham's largest contribution to the day, where over 100 class members, their family and friends, as well as people who are interested in finding out a little more about tai chi, get together at the beautiful Birmingham Botanical Gardens for an hour of this relaxing, regenerating yet gentle exercise.
This year's event is on Saturday 25th April, 10.30am to 11.30am. It includes free entry to the Birmingham Botanical Gardens for the morning as long as you have your free ticket to hand (email or call me to get yours) to hand in at reception. The usual cost of entry is £7, so get as many tickets as you may need before the day. There will be at least five different groups, practising five different elements of this beautiful art, explaining what you need to do from scratch, and catering to all abilities and ages, so if you are beginner wanting to find out what this Tai Chi stuff is all about, get in touch to arrange your free ticket and you can enjoy the gardens at the same time.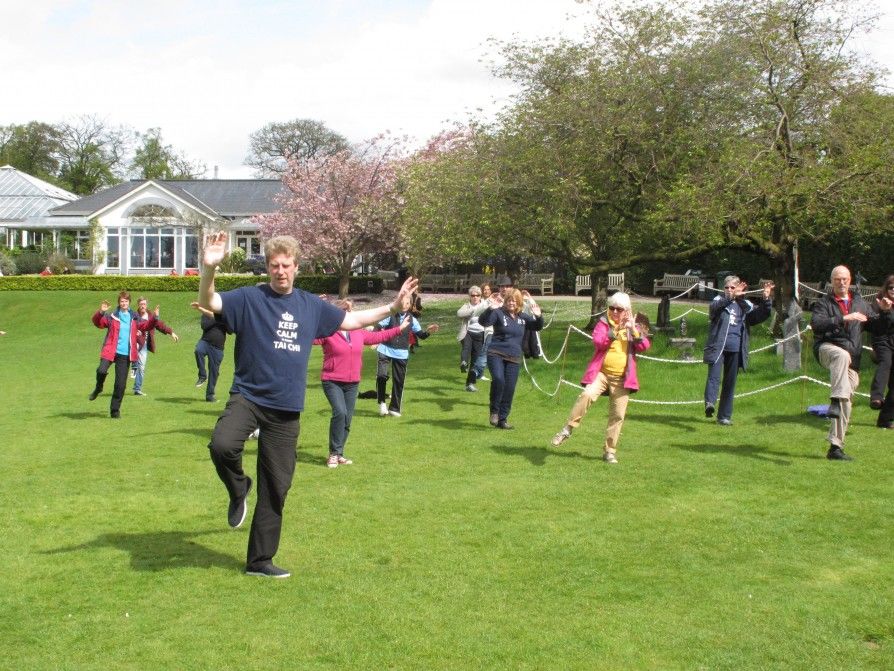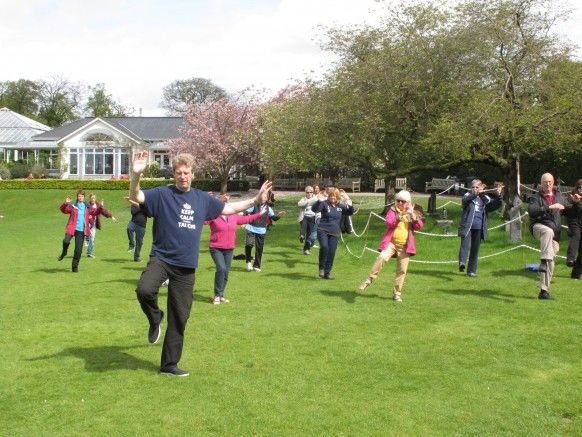 We have Fleur teaching Form (the graceful flowing exercise that Chinese people practise in parks each morning in China, that most people think of as tai chi) to absolute beginners who just want to give it a try, and Marissa has volunteered (well, sort of volunteered) to teach some simple Chi Kung (relaxed, repetitive exercises that get your energies flowing) that anyone can have a go at. Keith is doing the warmups and teaching the first section of the Form. June and Terry are teaching the start of the second section. Little Jenny tells me that you'd like to try something different this year? Well… Mike's Stick School went down well last year, so he's back again with Mark in tow. As last year, you can borrow a stick to try the exercises, and I will try to make sure there are enough sticks to go around this time!
I am very happy to say that Samantha Wong is back to run her Fan Workshop again this year. This one is always popular so if you want to have some fun and try a new thing, then try this, you'll love it.
Finally, thank you for turning out year after year for this. It wouldn't happen without you. Are we going to be wearing our thermals again this year? I hope not. Let's hope for a warm sunny one. I will let you know in class as soon as tickets are available. For further information and to arrange your tickets just contact me using the details on the contact page.